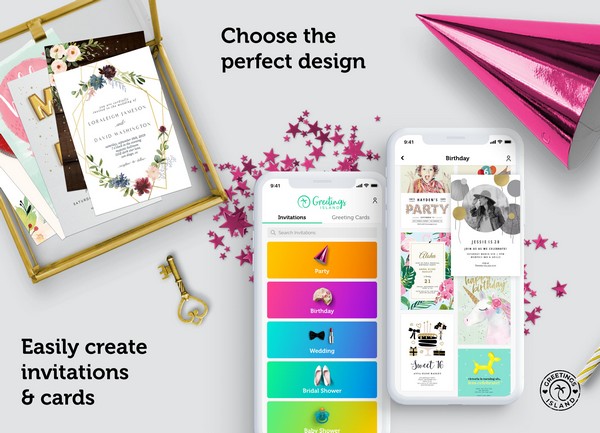 Greetings Island is a FREE invitation template and online card maker
Use our wedding card maker for wedding invites or save the date invitation, ecard maker, birthday invitation cards, RSVP cards & any other card template!
Easily customise your design and print & send it online!
👭 Free wedding invitation templates
🎂 Online birthday cards
💍 Save the date card maker
🎉 Online Party Invitation
🙏 Online greeting cards
👶 Birth invitation
🏡 Housewarming invitation
🎄 Holidays card
✉️ RSVP cards \ ecard invitation
🎀 And many more free invitation templates are waiting for you!
Grabbing attention nowadays is tough, and even more so when organizing a birthday party or an event. The first thing any potential partygoer looks at is the invitation! Use our online invitation card maker free of charge to create the perfect card invite and stand out from the crowd!
Creating a free wedding invitation or a greeting card was never that EASY!
Customizing your own free birthday cards used to be a lengthy, expensive process – but not anymore! Choose your favorite card from our free invitation templates list, if it's for a birthday party invitation, wedding invites, Birth invitation, or just a thank you card, easily edit it, and send it to your loved ones. With Greetings Island – invitation templates and greeting cards maker, that's all long in the past.
Requirements: Android 5.1
Developer: Greetings Island
Get it on Google Play