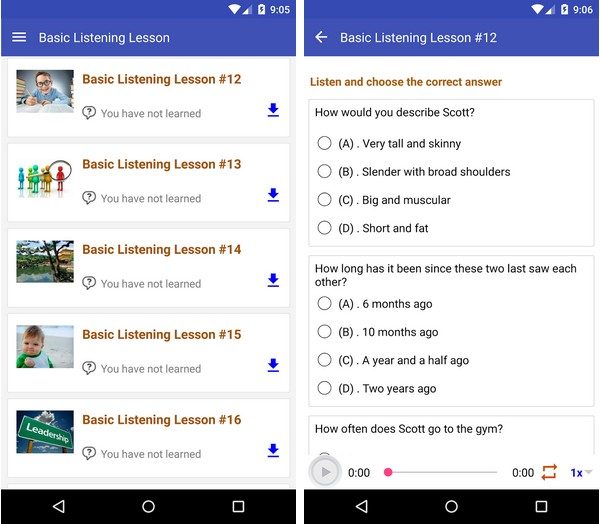 English Conversation Listening – an amazing English learning app for your device – is a ultimate tool for rapidly increasing your English conversation listening skills and familiarizing yourself with advanced English phrases.
If you are learning English as a second language, you know how hard it is to hone your Listening skills. And that is why; English Conversation Listening is designed with the intent of helping you rapidly increase your English speaking skills, as well as your listening skills.
English Conversation Listening gives you access to over 5000 conversations in English. With English Conversation Listening, learning English will become extremely simple and straightforward.
Features in English Conversation Listening:
+ Over 5000 different listening conversations focus improve English listening skills
+ Categorized by skill level – Beginner & Intermediate focus English listening skills
+ Listen to real conversations with subtitles and have lots of practice.
+ Smart learning method, which helps in improving the English listening skills
English Conversation Listening is the ultimate tool for your English listening skills learning. Download the app today, and start studying English conversations to develop your English listening and speaking abilities.
Requirements: Android 4.1+
Developer: Learn English A To Z
Get on Google Play