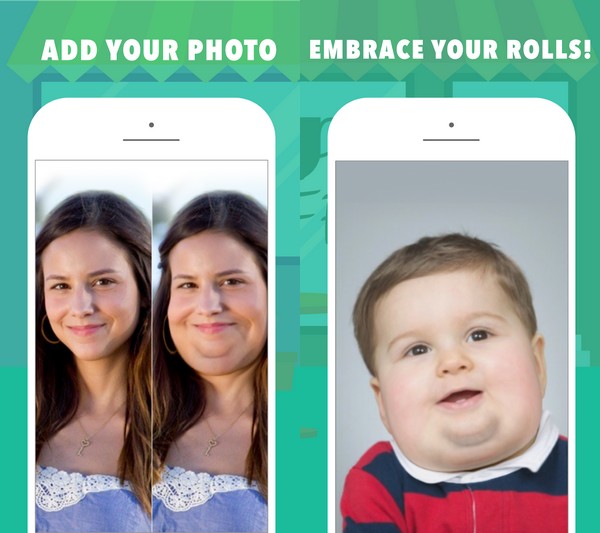 The Fatify face changer is the best way to become a fatty! Have you ever wondered what you would look like if you were fat? Really fat? Find out with Fatify fat face app! Upload or take a picture, and enter our photo booth to see what an extra 200 jiggly pounds looks like on you!
Fatify is a fun free app that lets you face swap for a fat, jiggly, animated one. It's the best free photo booth app for Android and it makes a fat version of you with just a tap of your phone's camera.
With Fatify, play fun games as your fat self and see how funny you look with 20, 60, or 600 pounds added on. Fatify lets you morph your face into a jiggly fat one that looks like it's consumed 50,000 hot dogs and 60,000 stuffed crust pizzas!
Make Your Face Fat!
To get fat with Fatify, you just need to take a picture of yourself with your camera, or upload your existing. Fatify's free and fun photo booth technology will change you into fat you, with sweat dripping down your face if you want and multiple fat chins! No more wondering, "What will my face look like if it's fat?"
The #1 Animated Fat Face Changer App!
The best face-morphing app in the Google Play store, Fatify makes you look super chunky – in 3D! Huffington Post says that Fatify shows you what you'd look like after gorging yourself and never exercising. That's an understatement!
Bloomberg BusinessWeek and IntoMobile have also reviewed and shared Fatify. APPSAGA says that Fatify is the "Funniest app ever!"
How do You Get Fat?
Fatify lets you get fat and animated – in 3D. You can choose to make yourself anywhere from 20 to 600 pounds heavier, and also tap your chubby cheeks and face to make it jiggle and do other hilarious things. With Fatify, you can make yourself burp and make other loud bodily noises. Swap your current chin for a double – or triple – one, and have double or more the fun!
Features
Get the following features for free with Fatify:
● Choose your weight
● Tap your fat photo face to smack your jiggly self
● Share your fat pic online, or with family and friends
● Make fat friends
● Have fun being fat!
Choose Your Weight
Fatify lets you change into a 200, 400, or 600-pound version of yourself with one snap of a pic from your camera phone.
Tap to Smack Your Fat Self
Tap your fat face picture and see it animated with jiggles, burps, sneezes, coughs, and more.
Make Fat Friends
Share Your fat picture with friends online who are also using Fatify. Show personal friends and family your funny fat face.
Fatify pictures can be share via Facebook, Instagram, MMS, email, Twitter, and more.