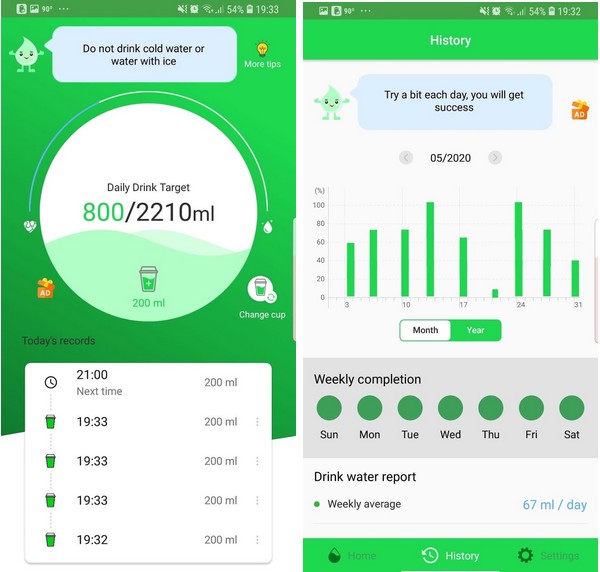 Drink water reminder is a daily water tracker and reminder app for you to have a good water balance on your body with smart drink reminder notification schedule. Water drinking reminder will help you to determine the appropriate daily intake based on gender, weight and activity level, automatically recording drinking water history so you can easily water tracker and adjust.
Why should you drink adequate water?
– Balance the body, help the body function well
– Weight loss
– Beautiful skin
– Purification and detoxification of the body
– Support digestion better
– Reduce stress, improve brain function.
Excellent features of drink water:
• User friendly interface
• Easy to use, calculate the exact amount of water to drink for each person based on age, gender, weight.
• The varied menu includes 24 different drinks with corresponding water proportions
• Vivid graphics represent the amount of water consumed
• Smart drinking reminder: be on time and not reminded at night
• Self-schedule appropriate drink water reminder timer
• Diverse text and audio reminders
• Eye-catching statistical graph
• Easily water tracker over the week, month and year
• Automatically records the history of drinking
• Allow edit past data
• Choose how much water you want to drink each time
• Achievement cups encourage users to reach their drink water goals
• Sync data with health apps
• Multilingual support application
That is all you will experience when using Drink water reminder. From now on, you will not need to remember to drink enough water, water drinking reminder will remind you every day.
Requirements: Android 5.0+
Developer: Drink Water Reminder App
Get on Google Play