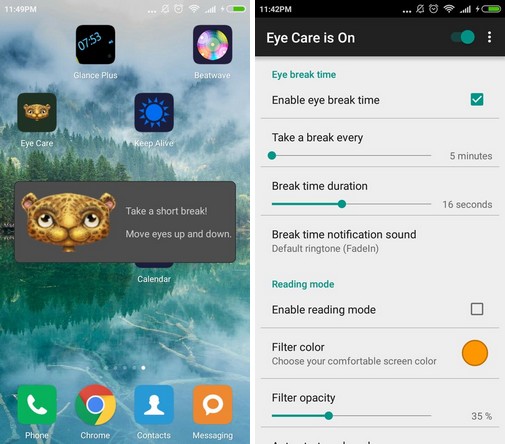 Beauty is how you feel inside, and it reflects in your eyes!!!
Smartphone overuse can harm your eyes and your social life:
– People who overuse smartphones get less enjoyment out of their leisure time.
– Bluelight from your smartphone causes strain on your eyes and prevents you from falling asleep easily at night.
This app is designed to help you calm down your mobile app usage and to ease eye strain. It's also adjusts your screen color to reduce the blue light and helps your eyes to relax.
☆ Features
▽ Remind you to take break regularly
When you are using smartphone, it is easy to forget about time. EyeCare guarantees you won't forget to take a break.
A cute Leopard will remind and show you simple eye excercises regularly.
Following Leopard's instructions will save you from eyes strain.
▽ Remind about overuse smartphone
You are able to set your own usage rule for each application in your phone.
Every time you violate the rule, EyeCare will pop-up a dialog to remind you to take a break or event close the app immediately if needed.
▽ Filter bluelight
This app's filter has a natural color so you can read news, emails and websites clearly.
This app doesn't dim the screen but adjusts the screen color to reduce blue light which causes strain on your eyes.
You can adjust the opacity of the filter.
You can choose from 7 different filter colors.
☆ Get EyeCare now for your beautiful eyes!
Requirements: Android 4.2+
Developer: THSoftware