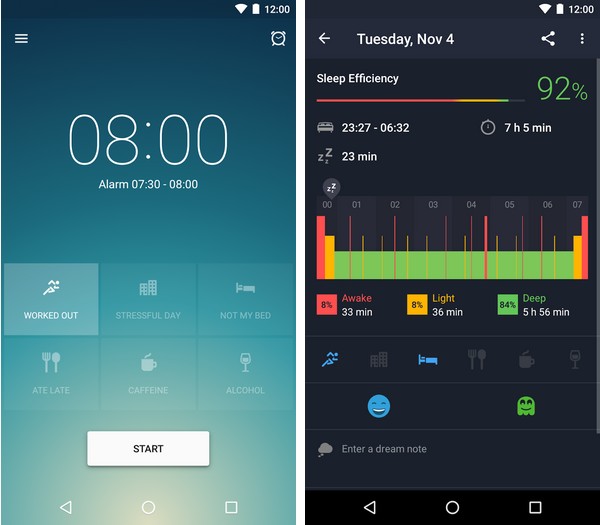 Track your sleep cycle, monitor dreams, improve bedtime habits & wake up better with the free Sleep Better sleep tracker app with smart alarm clock from Runtastic! Sleep Better offers you a simple and engaging way to get better sleep using a sleep tracker and sleep timer.
Time to take your sleep seriously! Instead of fiddling with other apps before bedtime, get to bed early with Sleep Better. Whether you struggle to fall asleep, want to learn how your daytime activities influence your sleep, or simply want some new & refreshing smart alarm clock sounds – this is your ideal free sleep tracker!
Track moon phases, keep a dream diary and more using this preferred sleep app on your Android device! Better sleep is in your future.
APP FEATURES & BENEFITS
* Sleep monitor: This sleep tracker monitors your sleep cycle, duration (both light and deep sleep) and efficiency with the simple tap of a button and placing your device by your pillow.
* Works in airplane mode: Simply set your device on your bed (next to your pillow). Your sleep app will do the work!
* Sleep timer: Track your light sleep & deep sleep phases & time spent awake in bed.
* Track caffeine & alcohol consumption, exercise info, and stress level to determine the effects of these variables on your sleep quality.
* Monitor moon phases and find out if it impacts your sleep cycle, internal alarm clock, deep sleep, sleep duration or snooze patterns.
* Keep a dream diary to track your dreams (good, bad or neutral).
* Note your mood when you wake up.
* Sleep track with your tablet: This sleep app and alarm clock works on tablets, too! Same as your smartphone, place it right next to your pillow.
* Share sleep tracking sessions via Google+, Facebook, Twitter, WhatsApp & email.
Requirements: Android 4.1+
Developer: Runtastic