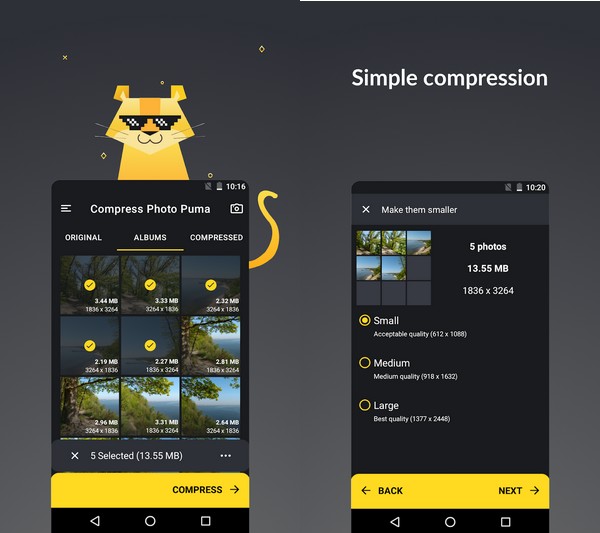 The app is the result of our several years experience in photo and video compression space.

Large photos? No problem! Puma will compress them down to reduce photo size.

This best Image Compressor app allows you to:
* send a lot photos in email (even 100)
* send photos via text
* share photos to social media (Instagram, Facebook, Youtube, Whatsapp,​ WeChat, Viber, Line, Telegram, VKontakte, KakaoTalk, etc.)
* attach photos to forms with size restrictions
* reclaim the space occupied by photos – replace feature
* save space on the phone, tablet, in the cloud, mailbox, disk
* compress images from the cloud & save them in the cloud
* send photos from places where internet is weak
* easily compare a compressed photo with the original
* compress image for a passport, visa, online application, job application, etc.
* resize image: jpg, png, webp, raw formats (dng, cr2, nef, arw) files

Puma image compressor app has three modes:
* Auto – the simplest way to resize photos. Perfect for emailing photos (even 50 in one email).
* File Size – allows you to specify the photo file size in KB or MB, and Puma will compress photos to an exact file size.
* Resolution & Quality – the most advanced one: specify image resolution and image compression quality.

This Image Compressor & Image Resizer app has everything you need to adjust or resize photo size, because you can define:
* quality
* resolution in pixels
* target image file size

Features of image compressor & image resizer app:
* reduce photo & image size
* photo batch resize or photo batch compress
* resize photo and share without saving
* easy compare photo before compression and after
* change output folder to sd card
* free up phone memory by replacing big photos,
* change resolution to 1920×1080, 2048×1152 (2048 pixels wide and 1152 pixels tall) or custom
* change aspect ratio to 2×3, 16×9 or custom

Puma Image Compressor is perfect to compress image size in KB & MB.
Your phone takes too large pictures? Downsize them using the image resizer Puma app!

In other words this image resizer app helps you:
* adjust image size
* reduce image size
* shrink image
* even enlarge image

Current cameras take huge photos with file size often close to 10MB. Big photos are great, but in daily life they cause a lot of troubles:
* email photos (clogged mailbox, disk, cloud)
* send pictures in email or text
* upload to social media or forum
* upload to forms with size restrictions
* phone is out of space
* expensive/not available mobile data
Image Compressor & Image Resizer will help you to forget about those issues.


Requirements: Android 4.4
Developer: farluner apps & games
Get on Google Play