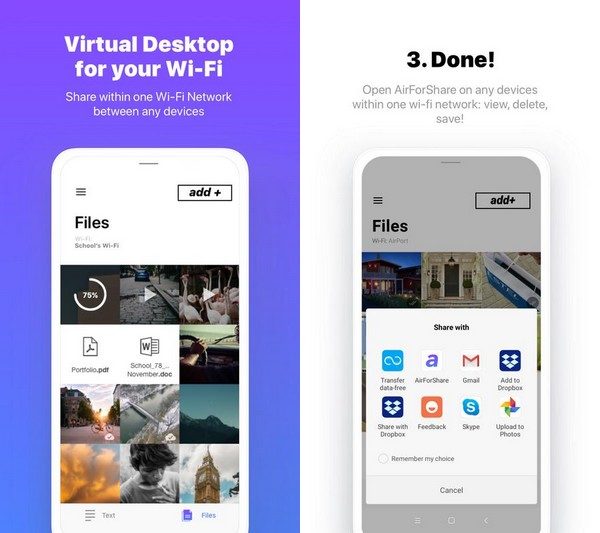 AirForShare helps you to share text, links and files between devices/computers instantly. Once uploaded your text or file will be available for 30 minutes on any other device you use in your Wi-Fi network *
How it works:
1. Open AirForShare.com in any browser.
2. Paste and Save text or upload file.
3. Start AirForShare application – you will see your content immediately.
AirForShare provides easy access to our service without passwords, cables, entering secret links or IP addresses and you don't need to download and install desktop applications. Focus on sharing!
Examples:
– need to send long text message or contact info? Type it on your computer, drop to AirForShare, and copy to clipboard instead of typing on phone keyboard.
– found great app and want to install it right away? Save link to AirForShare and open it from our application.
– took nice picture of your friends and want to share it with all of them?
Find any Wi-Fi and upload it from the app, your friends may access your photo using any device or smartphone they have.
– Instantly put and get files, open files with other apps on your device or upload to AirForShare **
All you need is to connect to the same Wi-Fi network. If you are at home or office you may be connected already and this step is not even required!
A few things to remember:
1. Your content is available for 30 minutes since last access, it will be deleted once expired automatically.
2. Any person connected to the same router may grab your data – please do not share important private information like passwords or credit card numbers unless you're using a Private Mode.
3. There is a 5MB limit/2 Files at once in the free version. You can create a free account and extend your limits to 10MB/5 Files at once.
* – your devices should be behind one router and should have same external ip address
** – you can preview any file type supported by your device
Requirements: Android 4.1+
Developer: BirdsCorp.com
Get it on Google Play