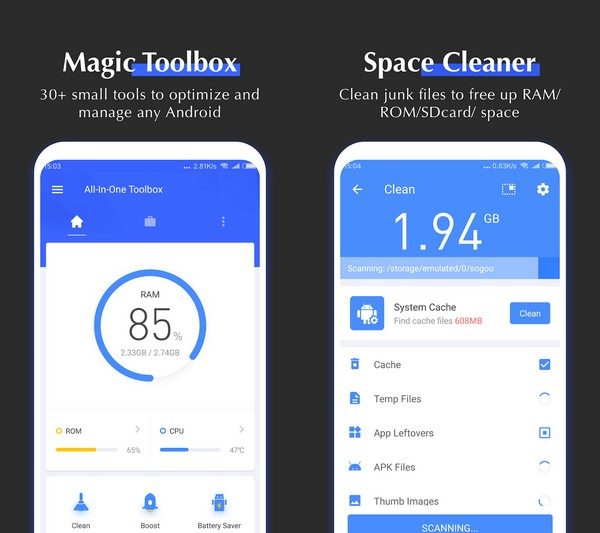 All-In-One Toolbox offers you best mobile experience to clean, boost and manage your phone. It is a top rated Junk Cleaner, CPU Cooler and File Manager. With it, you can optimize your phone and make it cleaner, faster and healthier.
Run All-In-One Toolbox, you can see status of your phone. How much RAM run, how much ROM occupied and what is the CPU temperature.
Clean Junk – Only One Click
Click "Clean", it will scan cache, temp files, app leftovers, thumb images, empty folder and process. After scanning, clean those file searched and your phone will have extra space.
Boost Speed- Only One Touch
Touch "Boost", it will scan which process can be exited and will release about 400MB memory every time.
Cool CPU- Only One Tap
Tap "CPU Cooler", it will tell you CPU temperature and if it is normal. Automatically choose the apps you are running and you can terminate them to cool down your Android.

Speed up Boot Time
Click "Boot Speedup", it will search which apps your Android will run when booting. User Apps and System Apps are in different columns. Disable those unnecessary apps and make your phone boot up quicker.
Requirements: Android 4.0.3+
Developer: AIO Software Technology CO., Ltd.