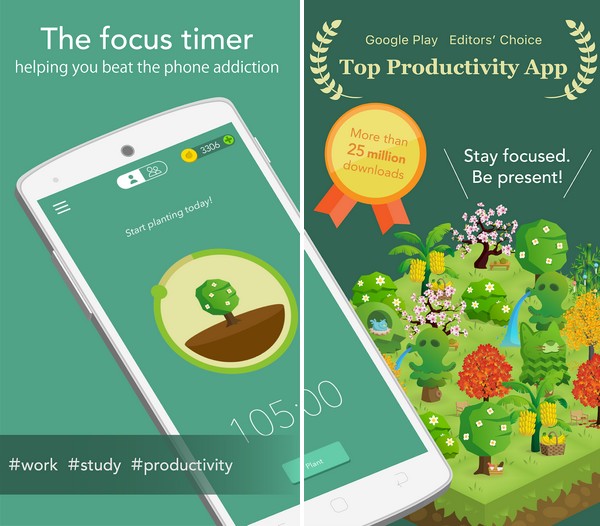 If you want to temporarily put down your phone and focus on what's more important in real life, you can plant a seed in Forest. As time goes by, this seed will gradually grow into a tree. However, if you cannot resist the temptation of using your phone and leave the app, your tree will wither.
The sense of achievement and responsibility will encourage you to stay away from your phone, and will help you make better use of your time. Stop getting distracted by your phone, become self-motivated and get more things done.
Stay focused. Be present!
FEATURES:
• A interesting way to help you beat phone addiction and overcome distraction
• Encourage you to stay focused.
• The best cure for procrastination.
• Reduce procrastination and makes you productive.
• Track your focused moments in a simple and pleasant way
• Earn rewards and unlock new tree species
• Turn your focused moments into a lovely big forest
• Motivate yourself to reach your daily goals!
NOTICE
• Forest is an app available for both Android mobile and tablet devices, and can be accessed across all Android devices with pro version. To download non Android version of Forest, this requires a separate purchase. However, by logging into the same registered account, the account data can be synchronized across all platforms.
• Due to budget constraint, the number of real trees each user can plant is limited to five. We will be introducing limited time events that will allow users to plant more real trees. Please follow our social media page or check the in-app announcement for more updates.
Permissions Explained: https://www.forestapp.cc/permissions/en/
Requirements: Android 4.4+
Developer: Seekrtech
Get on Google Play