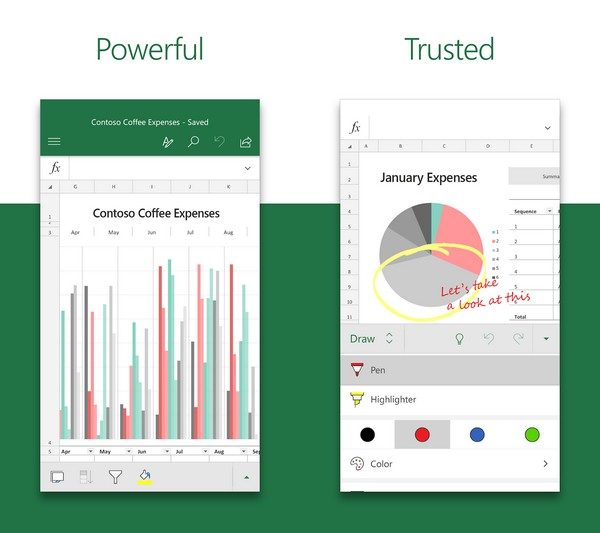 The Excel spreadsheet app lets you create, view, edit, and share your files with others quickly and easily. Manage charts, data analyses and more while you view and edit workbooks attached to email messages.
Work in data analysis, accounting, auditing, finance, or any other fields with confidence. Your office moves with you when you use Excel, enabling you to implement complex formulas with amazing features.
Create spreadsheets, review your charts or start a budget on the go. Create spreadsheets customized your way with robust formatting tools and great features. Excel lets you build your charts and spreadsheets to meet your specific needs.
Get the data analysis, spreadsheets and business features of Microsoft Office on your phone with Microsoft Excel.
Microsoft Excel Features:
Create Spreadsheets & Calculate
• Manage charts, budgets, task lists, accounting, or financial analysis with Excel's modern templates.
• Use data analysis tools and familiar formulas to run calculations.
• Rich Office features and formatting options make your workbook easier to read and use.
• All charts and spreadsheet features, formats, and formulas operate the same way, no matter the device you use.
Review and Edit
• Review your Excel files from any device.
• Edit charts and data or update your task list from anywhere.
• Use data analysis features like sort and filter columns to focus your review.
• Create spreadsheets, duplicate, hide, and unhide easily.
• Annotate charts with notes, highlight portions of your worksheet, create shapes, or write math equations using ink with the draw tab feature on devices with touch capabilities.
Data Analysis
• Insert charts to bring your data to life.
• Use data analysis features like add and edit chart labels to highlight key insights.
Collaborate and Work Anywhere
• Share charts and files with a few taps to quickly invite others to edit, view, or leave comments directly in your workbooks.
• Copy your worksheet in the body of an email message with its format intact or attach or copy a link to your workbook for other sharing options.
Use business apps to create spreadsheets with all the functionality of Microsoft Office. Download Microsoft Excel today.
Requirements: Android 6.0+
Developer: Microsoft Corporation
Get on Google Play