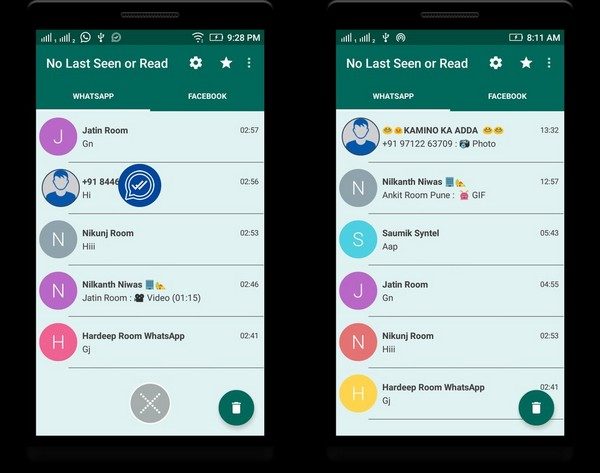 No Last Seen or Read is an unseen app for both Facebook and WhatsApp. You can read the messages sent to you from WhatsApp and Facebook without even opening those applications. Hence no blue tick marks or read sign will be visible to anyone.
Why Unseen for WhatsApp is an important app?
– Unseen for WhatsApp and Facebook reads messages incognito so the sender cannot see whether you have seen the messages or not.
– You can avoid your girlfriend or annoying friends without letting them know.
– We all have some friends who constantly sends us messages to us. They will not stop unless you stop seeing the app but at the same time some important message has been delivered to you which is important then using this app you can read all the messages without leaving any blue ticks.
– You do not need to be offline or remove internet connection while you can read the entire conversation from Unseen WhatsApp Messenger.
Features:
– Nice and simple UI
– Easy to use
– Functionality to disable Facebook and WhatsApp messengers notification
– Functionality to disable Group chats, personal chats notification
– You can see photos and whatch videos from this app without opening WhatsApp and Facebook messenger.
– Has ability to remove messages and chats from this app.
Requirements: Android 4.3+
Developer: Genpack