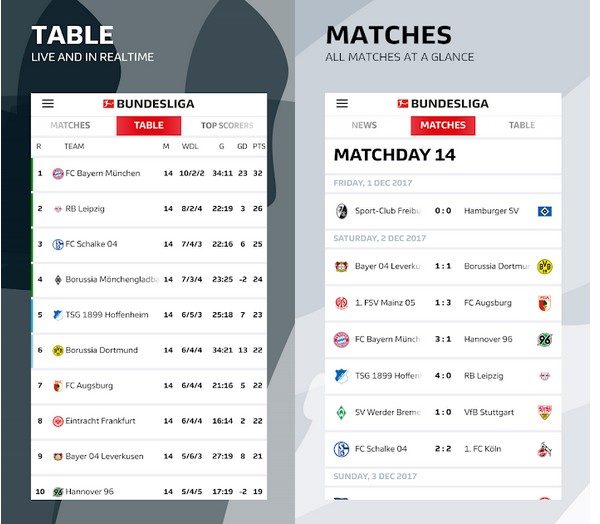 News, videos fixtures, results – The Official Bundesliga App is for real football fans.
Get instant notification on matchdays and throughout the week. Don't let the big news on players, clubs and transfers slip by, and get everything from your favourite team straight to your phone.
Get news and videos from all the biggest stars in the Bundesliga. With exclusive interviews from your favourite players and managers, The Official Bundesliga App is the right place to be for on-the-spot news.
The Official Bundesliga App has everything you need on matchday. From live ticker score feeds to pre match round-ups for all teams in the Bundesliga and Bundesliga 2. Try it today, and get all the official statistics, news and match feeds direct to your phone.
*EVERYTHING FOR REAL FOOTBALL FANS*
100% OFFICIAL – The Official Bundesliga App gives you all the official news, stats and highlights direct to your phone.
INSTANT NOTIFICATION – Get every piece of information about your favourite team as soon as it happens with push notifications.
SUPPORT YOUR TEAM – Select your favourite teams and make sure you never miss a moment.


MULTIMEDIA – Check out videos, interviews and national and international football news whenever you want.
Get all the latest football interviews, info and team news with The Official Bundesliga App today.
Requirements: Android 4.1+
Developer: DFL Deutsche Fußball Liga GmbH
Get it on Google Play