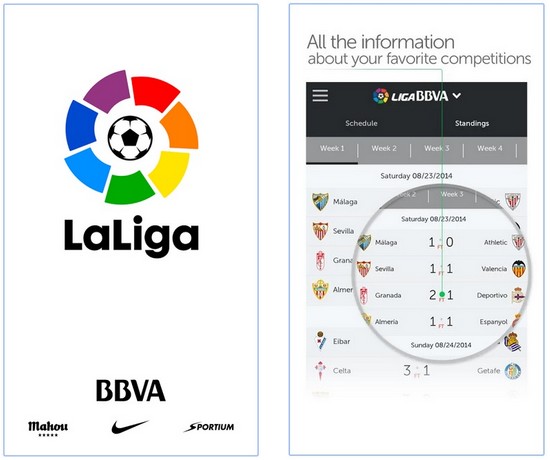 Receive goal alerts, news, schedules and scores for your favourite teams and players: Real Madrid, FC Barcelona, Atlético Madrid, Sevilla FC, Messi, Bale, Griezmann, Luis Suárez, etc. All of the information about the Professional Football League, as well as all of the international leagues for the 2018-2019 season.
-SCHEDULES, SCORES, STANDINGS: LaLiga Santander, LaLiga 123, Copa del Rey, UEFA Champions League, UEFA Europa League, Liga Femenina Iberdrola, English, German, French and Italian Football Leagues….and many more.
– LIVE minute-by-minute commentary. Follow and comment on the match via TWITTER.
– NOTIFICATIONS: Real time notifications and alerts right from the kickoff, goals, red cards, substitutions, full times, daily schedules and much more. Completely customisable, it's up to you. Optimised alerts for better live match coverage.
– NEWS: Latest news from Spanish teams, your favourite team as well as official LaLiga news.
– MY TEAM: Personalise app content for quick and easy access to all past and upcoming matches, stadium information, staff and images of your favourite team.
Requirements: Android 4.0+
Developer: Liga de Fútbol Profesional
Get it on Google Play