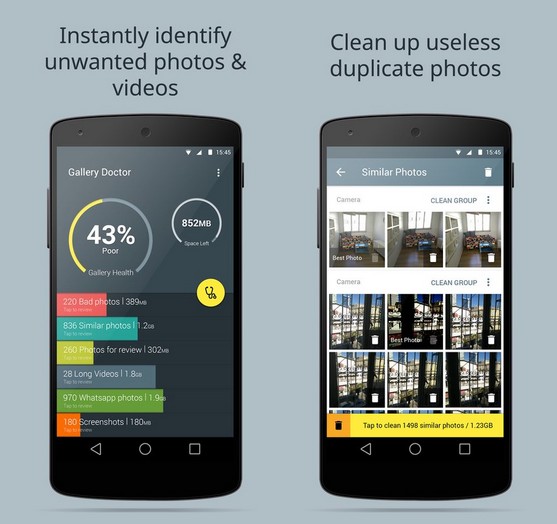 Clean up your phone and free up valuable storage with Gallery Doctor, the fastest growing photo cleaner that instantly identifies the bad & similar photos in your Android gallery
What can Gallery Doctor do you for you?
Free up to 35% of your device storage by automatically identifying and cleaning the bad & similar photos clogging your photo gallery.
Review and keep the photos you want, clean up and delete the ones you don't. Gallery Doctor has helped users free up to a third of their storage, all on the first-time use! You won't be needing another photo cleaner after you've tried Gallery Doctor!
Not convinced? Gallery Doctor can help you clean up your gallery in 3 easy steps:
1 – Automatically identify unwanted photos
• Blurry shots
• Dark photos
• Photos with poor quality
• Similar photos
• Gallery Doctor even identifies your boring shots!
2 – Review the photos you want to keep
• You decide what to clean – Swipe left to delete or right to keep.
• Smarter over time – Gallery Doctor learns which photos you don't like and gets smarter based on which photos you keep or clean.
3 – Clean up your Android gallery & organize your photos
• Organize your photos – Clean out the duplicates and the bad photos so you can make room for the good stuff.
• Storage & Photo manager – make more room for favorite apps!
Requirements: Android 4.0+
Developer: AVG Labs
Get on Google Play