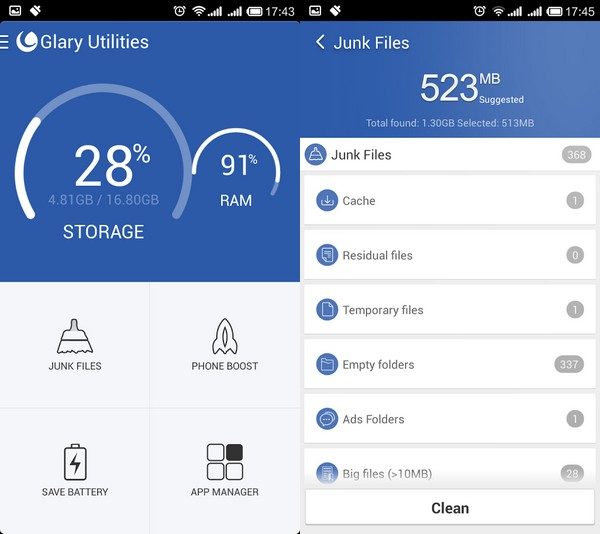 Glary Utilities for Android 3.2 is now accessible on your Android phone. It lets you quickly clean, optimize and boost your android device by sweeping all that slows it down. This all-in-one cleaner APP can quickly boost your android phone's performance just by clicking Quick Clean. It Frees up system RAM, Boosts Memory, Cleans Junk and also helps you keep your privacy in an efficient way.
Main Features include the following:
Quick Clean:
–Ability to kill the caches and residual files quickly.
–Speed up your phone function effectively.
–Ability to end the individual applications.
Junk Files:
–Shows the list of applications that having system cache.
–Shows all the residual files which could be cleaned.
–Ability to auto clean caches at time intervals like (every 3 days)
–Cache file size auto reminder which could be set to space usage like (50 MB,100MB)
Task Killer:
–Shows list of running tasks with their RAM and CPU usage.
–Ability to kill the individual applications and end multiple tasks.
–Task Reminder will remind users when the memory usage is high.
–Ability to auto kill background tasks effectively.
APP Manager:
–Lists all the installed applications with their size and version.
–Ability to uninstall a certain program within the APP.
–Delete the backed up programs or reinstall them.
Privacy:
–Remove the history of all installed browsers, mail clients and other credentials.
–List all the call logs and messages and ability to delete them
Power Management:
— Shows the total battery percentage and current status.
–Lists the battery usage of all the programs.
Requirements: Android 2.2+
Developer: Glarysoft Ltd