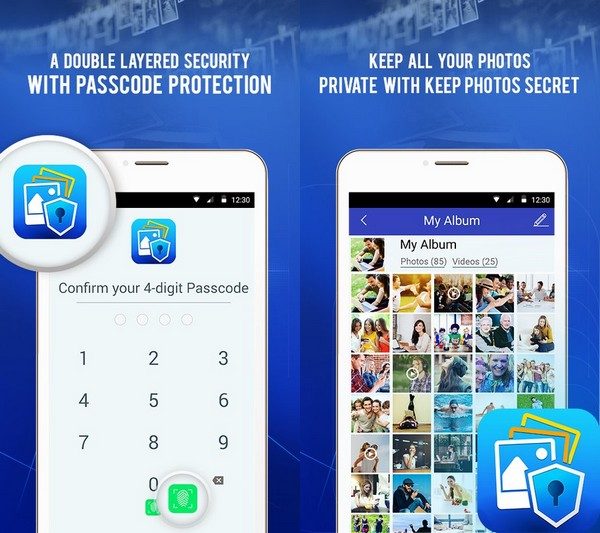 We all have some private photos and videos on our device that we want to hide from others. You can simply lock them using Keep Photos Secret app. To secure them, transfer your private images and video files to Keep Photos Secret app and lock them with a password and relax. Now, no one can view these photos or videos without entering the passcode. The app securely keeps all your private and family photos and videos protected.
You can set different passwords for each album, making it difficult for others to access them. When you import images or videos to the app, it prompts you to delete them from original location to keep them hidden from anyone who has access to your device. This is an amazing security feature, which secures your photos and videos without taking additional storage space.
PROTECT YOUR "SECRET" PHOTOS + VIDEOS
Double Layered Password Security – Protect the entire app with 4 digit pin lock as well as individual photo albums with a password.
Fingerprint Unlock – No need to remember PIN; instantly unlock your secret vault with your fingerprint. (This feature works in devices which include a fingerprint lock.)
Safe and Secure – Media is kept 100% private and is not uploaded on the cloud. Photos and videos are saved in a hidden folder no one can access.
Passcode Recovery – You won't lose your valuable files even if you forgot your passcode. The app will email the passcode to you if you forget it.
Stealth Mode – In this mode, the app disappears from recent apps list and can't be tracked.
Photo Management
• Create various photo albums right in the app
• Import/Export from gallery
• Email Photos
• Copy hidden photos to other albums anytime.
• No limit on the number of albums that can be created and photos to be imported.
Photo Viewing
• Private gallery with option of deletion and mailing of photos after user confirmation
• Slideshow option
• Save photos directly in the app
• Intuitive user interface
Video Support
• Import/Export videos from gallery
• Watch Videos in app itself
Using the app, you can import all your personal and cherished photographs or videos from your phone's gallery and lock them in a secret vault.
Requirements: Android 4.0+
Developer: Systweak Software