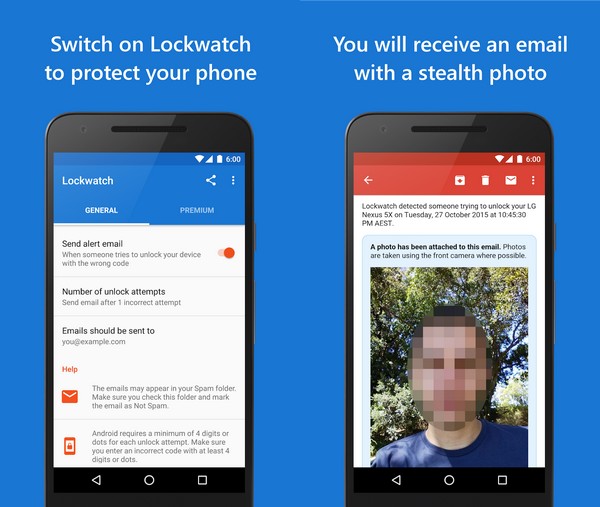 Lockwatch emails you with a photo taken with the front-camera when someone tries to unlock your phone with the wrong code. The email also includes the GPS co-ordinates of the incident.
The thief won't know they've being recorded as the app is silent. The app has already caught hundreds of thieves around the world and recovered hundreds of lost phones successfully.
Lockwatch is very small (less than 1 MB) and won't drain your battery, as it only runs when the wrong unlock code is entered.
Note: Android requires each unlock attempt be at least 4 digits or dots. Lockwatch will not send the email if the correct code is entered within 10 seconds.
PREMIUM FEATURES
These additional features are available when you upgrade to Lockwatch Premium in the app.
• Lockwatch can email you if someone inserts a new SIM card in your phone. It will even include the SIM phone number in the email (if available).
• If a thief turns your phone off and later turns it back on (e.g. when they get home), you can be immediately notified of their location.
• Lockwatch can take multiple photos which improves your chances of getting a good photo of the thief.
• Lockwatch can record an audio clip using the phone's microphone and includes this in the email.
HELP
Visit our web site at https://lockwatch.app/help.
This app uses the Device Administrator permission to monitor screen unlock attempts.
Requirements: Android 5.0
Developer: BlokeTech
Get it on Google Play