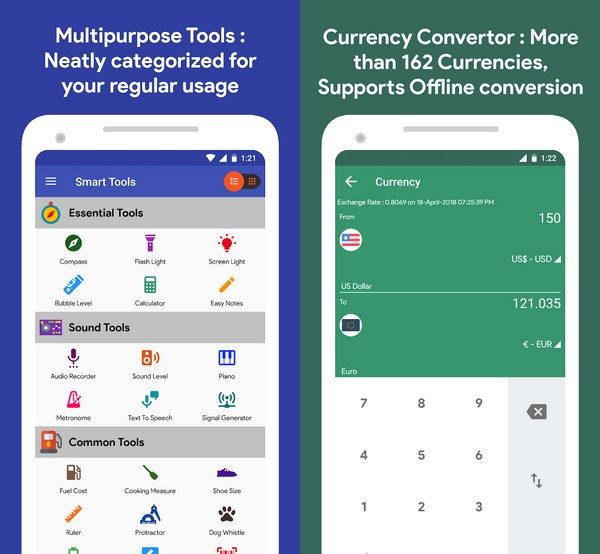 Smart Tools is the most useful and handy application which offers more than 20 tools like Flash Light, Compass, Ruler, Calculator, Speedometer, Sound meter, Stopwatch etc..
Smart tools uses In-Built sensors of the device and provide most accurate measurements. It comes in handy for wide range of users from students to Engineering professionals
Smart tool is an All in One Application. You do not have to download separate standalone utility applications for your daily use. Using this application will save you a lot of device memory, time and effort.
Best Features
✓Flash Light
* Turns your LED flash light of your device into super bright and handy Torch Light
✓QR Code and Barcode Scanner
* Fastest and smartest QR and Barcodes reader on products
✓Compass
* Accurate and Precise professional compass with great design.
* Works with in built device sensor
* Incredibly smooth movements
✓Bubble Level
* Spirit Level to to check the surface level perfection
✓Scientific Calculator
* Basic and advanced scientific and mathematical functions
* Material Design Theme
✓Ruler
* Built in ruler to measure small objects
✓Sound Level
* Measure the sound level decibels with extreme accuracy
✓Speedometer
* Turns your phone into a digital speedometer and an odometer.
✓Text to speech
* Convert the typed input into clear and audible speech
✓Pedometer
* Built-In Real time Pedometer as well as manual logging of steps
* Calories, walking speed, Distance are calculated in real time
✓World Time and Time Zone
* Displays the time of more than 200 Cities in real time
* Calculate the time difference between any cities
✓Fuel Efficiency
* Calculate fuel efficiency, Gas Price and Mileage
✓Other Utilities
* Age and Date Calculator
* Device Battery status
* Counter
* Shoe Size Converter
* Cooking units Measurement
* Number Base converter
Requirements: Android 4.0.3+
Developer: EZHIL
Get it on Google Play