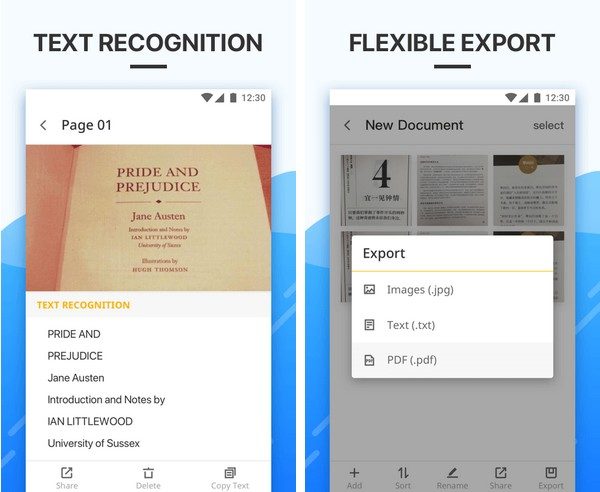 Text Scanner OCR Pro is a scanner app, using OCR technology. You can use it to scan all kinds of paper documents, plus quickly and accurately recognize and translate text . Text Scanner OCR Pro is also a pdf converter so you can scan photos and adobe files then covert them to pdf or txt.
Free with ad version!
This is the best Text Scanner [OCR]. You can convert an image to text with
the highest speed and highest quality in all android apps.
[ Features of Text Scanner OCR ] :
– OCR Text Scanner
• Text Recognizer supports picture to text, photo to text, image to text, handwriting to text, text grabber. etc.
• Extract text and recognize text very accurately and quickly.
• Automatically recognize the characters from an image.
• Scan multiple documents, photos from your camera or album, receipts, notes, invoices, whiteboard discussions, business cards, certificates, etc.
• Extract URLs, emails, phone numbers, etc. from images.
• Using HIGH quality OCR technology
• Highest speed and highest accuracy reading
• Convert image to text – Supports 110+ languages.
• Copy extracted text into the clipboard for use in other apps.
– Camera Scanner
• ID card Mode Scan. Scan both sides of an ID card onto a single page , and then you can convert it to a pdf file or print it by your phone.
• Business Card Mode Scan. Use business card mode scan , supporting Automatically identify contact phone numbers on the business card.
• Book Mode Scan. Use book mode scan , you can scan the left and right pages of an opened book as a whole and auto-split them into two images, fast and convenient.
• PPT Mode Scan. You can batch scan ppt pages and support automatic cropping.
• Batch Scanner. Scan any type of documents into HD image or pdf files very fast and accurate. Also support batch scan mode, and output the scan results in pdf.
• E-signature . You can send scaned documents to others for signing with an electronic signature.
• Mobile Printing. Print directly from your Android device. Quick, easy! You can print stored files (PNG, JPG, PDF, DOC, XSL, PPT, TXT), anytime anywhere on almost any WiFi, Bluetooth or USB-OTG connected printer.
• Image filter processing. Fine tune the image with many filters to reach perfection – such as brightness and saturation processing
– PDF converter
• Convert multiple JPG files to one PDF file
• PDF/Image converter, supports png, jpg, webp, pdf, txt, adobe file, etc.
• Sort images and convert to pdf
• With high-quality PDF or PNG output, it's easy to help you better manage your documents.
– Image file management
• Supports the editing of image files, such as rotation, filter, cropping, and so on.
• Share documents to Facebook, Twitter, Whatsapp, Wechat, Messenger, Google+, etc.
• User-friendly and easy to use
Requirements: Android 4.0.3+
Developer: BestAI
Get on Google Play