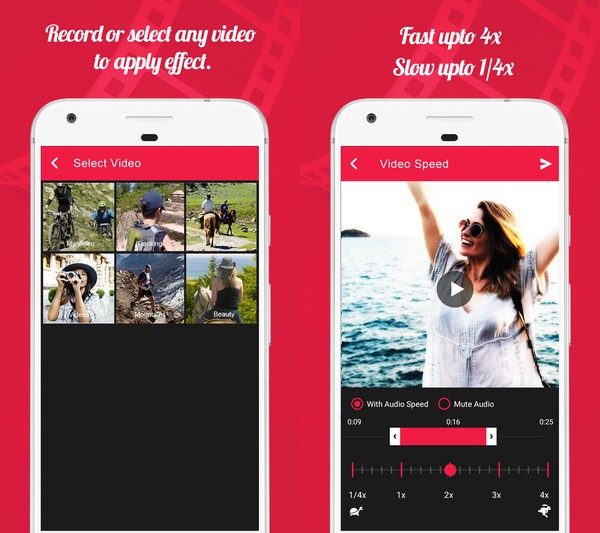 Slow your video or fast them as you want. Share your creations on social media with friend and family.
Create slow motion & fast motion playback speed editing in to your videos!
You can watch your video in fast and slow motion and also save your creations with this Slow Motion and Fast Motion Video Editor.
No hidden cost. App is free to use.
Try some of these ideas
– Record something falling and watch and save them in slow motion.
– Save fast motion video of your Journey or Tutorial.
– Make funny slow motion and fast motion videos of your friends dancing, eating, watking, falling and lots more.
– Record your pets in slow motion.
– And all the ideas which come out of your creative mind!!
Features:
* Select any video from gallery or record video from camera.
* Fast your video upto 4x or slow your video as slow as 1/4x.
* Choose from so many options for Fast motion – 1.25x, 1.5x, 1.75x, 2x, 2.25, 2.50x, 2.75x, 3x, 3.25x, 3.5x, 3.75x, 4.0x
* Supports Video formats including MP4, WMV, 3GP, AVI, MPG, M4V, MPEG4, MOV, MKV, WEBM, M2V, etc.
* Fast Processing & Best Quality Output.
* Easy to use with Intractive UI.
* Output Gallery to see created output files. Share and Delete output files easily.
Requirements: Android 4.1+
Developer: AndroTechMania
Get it on Google Play