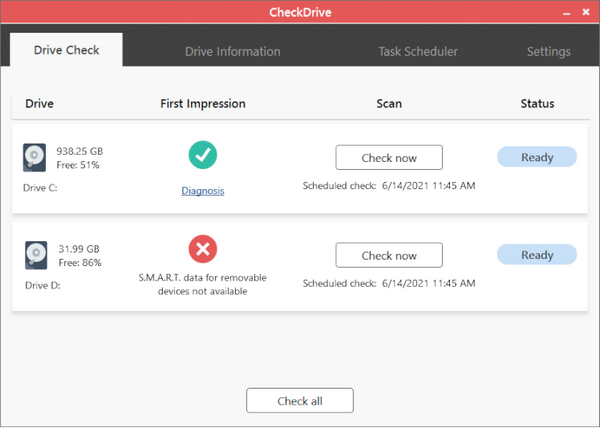 CheckDrive specifically seeks out hard drive errors so that they can be resolved before it comes to real problems. It works as a "Disk Doctor" to scan for symptoms: typical hard disk failures.
Abelssoft CheckDrive is for people who want to check their hard drives on a regular basis, automate monitoring tasks, and figure out what happened to their hard drives. This tool lets you do a lot of monitoring and scanning of your computer's hard drives through a nice graphical user interface and with very few settings.
The application scans can help you identify problems that might occur in the future. Initially, the application will scan the hard drive for typical faults and then report them to you.
Features:
Offers you an easy way of checking your PC hard drives for errors.
Displays info about your PC disks and determines whether they require cleaning or defragmentation
Constantly monitors the values of your hard drives and alerts you immediately if an error occurs.
Optimized for Windows 11 and Windows 10.