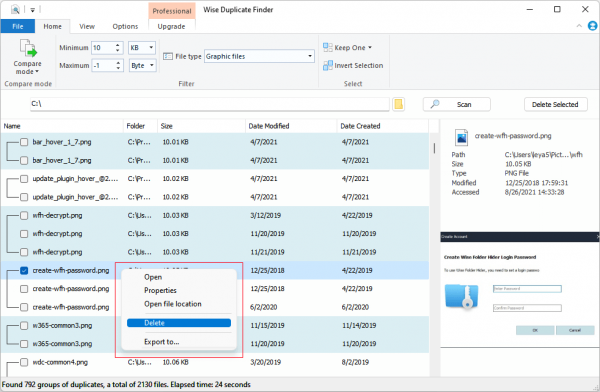 Wise Duplicate Finder is a windows duplicate file management software that enables you to scan and delete duplicate files on your Windows system.
This disk management software scans the hard drive on your PC to find duplicate documents, images, videos, and so on. By removing/deleting these duplicate files, you can free up your valuable disk space. It is really fast, correct, and easy to use.
After the scan process is finished the program shows all the duplicated files in groups.
Wise Duplicate Finder gives you full control to remove duplicates. You can go through the search results and decide which copies to delete. But if you have a large number of copies, it will take you a long time to select. So let the program save one automatically.
Also, the software automatically backs up the deleted files in a specific location if you delete them by mistake so that you can restore them.
Key Features of Wise Duplicate Finder:
Customize diversified scan modes
Manage duplicate documents, images, videos, emails, and so on
Faster & Smoother duplicate file scanning
Increase free space for "limited" resources like memory disks
Delete/Remove duplicate files safely
Back-up and restore deleted duplicated files with one click.
Get Wise Duplicate Finder Pro for Free: Just download the giveaway version from the link above.
.