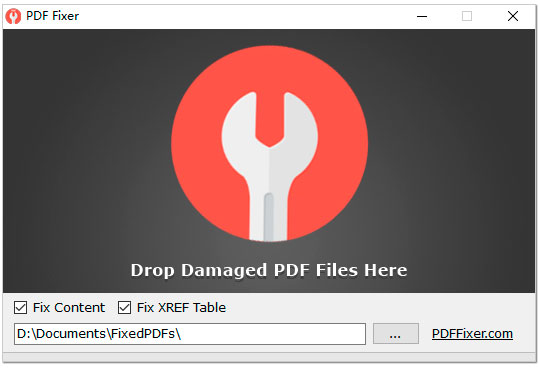 PDF Fixer is a PDF repair utility which repairs corrupt PDF files by restructuring the damaged PDF data, rebuilding XREF tables and then restore these damaged PDF documents into readable PDF files.
Just add your single, PDF file, choose a preferred output location, and then start the repair process, which will fix your file. If you want to add the file by dragging and dropping it, you can do that. This makes the whole process a little faster.
Aside from having to add their PDF files, users can choose where the processing will take place. That's all there is to choose from as far as options go.
During the repair process, users have two main options for how to do it. One can decide if the app will look at the internal content of the PDF file, as well as the XREF table inside the file.
For people who want a little more from the repair process and its characteristics, these two options give them a little more flexibility.
Features:
Repair PDFs that are unreadable or corrupt.
Rectify PDF's XREF tables.
Export data recovery to PDF files.
Automatic preview of the corrected PDF material.
Detecting corrupt PDF documents automatically.
Multiple damaged PDF files can be repaired in bulk.
Compatible with Windows XP/Vista/Windows 7/Windows 8/Windows 10/Windows 11 (32/64 bit) and Servers.