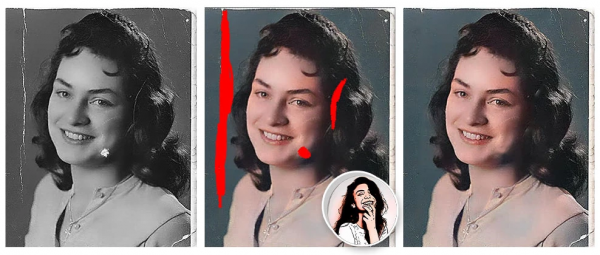 DOWNLOAD FOR WINDOWS

DOWNLOAD FOR MAC

Picture Colorizer is a Windows and Mac application used for B&W photo colorization and old photo restoration. Allows users to adjust various parameters of the photo and apply filters. Register to remove watermark.
Simplistic and intuitive GUI
The application comes with easy-to-understand icons that encourage even novices to breathe new life into their photos.
Since you cannot drag and drop the source image onto the main window, you can only manually browse to its location and load it within Picture Colorizer. The supported formats are JPEG, PNG, BMP, and GIF.
Choose colorization variant
The actual colorization process is fully automated, there are no settings you can adjust so you need to wait patiently until the operation is completed.
At this point, you can choose one of the suggested variants – you can preview each of them by clicking each one, then settle on the one you like best.
Adjust the image post-colorization
Picture Colorizer supports several enhancements you can apply to improve the overall aspect of your image.
You can alter the exposure, saturation and hue values, while also sharpening the photo as you see fit. The gamma and denoise parameters can be tampered with as well.
Export the resulting image
The final step is to save the result to one of the supported formats (JPEG or PNG). You have the possibility to export the original file, the colorized version or the colorized one with the effects you applied.
Conclusion
All in all, Picture Colorizer is a nice, little tool that can change the appearance of your black and white photos. It does not require any advanced skills, so novices can easily take advantage of its feature-set as well.