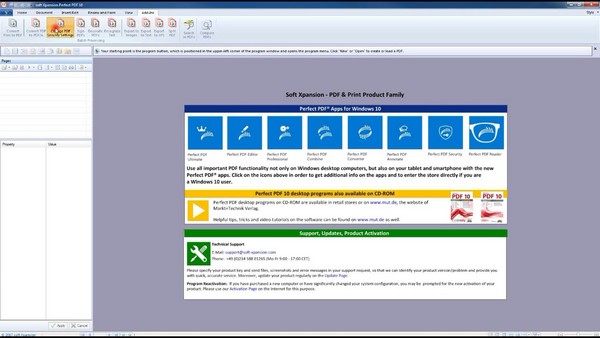 Soft Xpansion Perfect PDF 10 Premium lets users easily create, convert, edit, and comment on PDF, PDF/A, and XPS files.
Perfect PDF 10 Premium is a powerful piece of software that enables you to easily convert all your documents to the universally readable PDF format. Edit your text and photos directly in the PDF file using the complete Editor and its extensive toolset, protect them with secure encoding, and add a legally binding signature.
The PDF tool also contains an OCR module, which recognizes and digitizes text in scanned documents according to certain specifications and in four languages (German, English, French, and Italian).
Features:
Create, edit, and convert PDF, PDF/A, and XPS documents with absolute ease.
Insert and edit text, audio and video comments, links, highlights, backgrounds, watermarks, and much more.
Create interactive forms.
Secure encoding and electronic signatures.
Separate multi-page PDF files into single pages.
Fully compatible with Adobe Acrobat.
Automatic integration directly into the Office (Word, Excel, PowerPoint, Outlook, Visio, Project), OpenOffice (Writer, Calc, Impress, Draw, Base, Math), and Windows Explorer toolbars.
Merge and split PDF files.
Compare PDF files, replace texts.
Page editor to create new pages or to edit existing content.
Special image editor to edit images directly in PDFs
Use predefined layouts or edit them.
Batch processing.
Change the structure of PDF documents (move pages, delete, turn, change size).
Cut page content and adjust the opacity for texts and graphics.