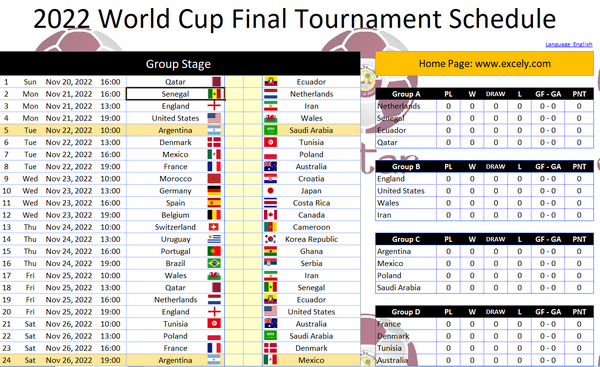 Usually the tournament is the summer spectacular that fills our June and July with joy every 4 years. However, the edition in Qatar in 2022 is different than any tournament that has come before it.
It is a first for the FIFA World Cup – the tournament has only travelled once to Asia (Korea/Japan in 2002), but this is a first time an Arab country has hosted the tournament. This is an important milestone for FIFA, who aim to have the World Cup hosted in every corner of the world eventually, with this being the start of that project.
The changing schedule also poses challengers for the domestic football competitions. The Premier League, as well as other major leagues across Europe, will close their doors for 2 months while the competition is in play. This will be a nightmare for scheduling and players will have a huge break in their season which could derail any form they have built up in the beginning of the season.
However, the African Cup of Nations has faced this quandary for it's entire existence, so one World Cup in the winter wont kill the players. In fact, it's shaping up to be one of the most interesting tournaments in years, with a number of frontrunners to win the FIFA World Cup emerging as we move towards the World Cup Finals.
Hosts Qatar will be hoping to do well in their first World Cup. They have spent years building up a team ready to compete and will be hoping to go far in the tournament. They aim to match Korea's performance in the 2002 World Cup, when they reached the semi-finals, albeit in controversial fashion.
Argentina have one last chance to taste glory with Lionel Messi as their iconic captain. The legendary attacking is coming to the end of his career and will try to add one more trophy to his cabinet before the PSG player hangs up his boots for good.
England have more confidence than they've had in years to add to the increasingly talented squad at Gareth Southgate's disposal. Despite being beaten finalists in EURO 2020, they are among the favourites to win the World Cup and Harry Kane and co. will give it a good go.
Former champions France are also one of the favourites to go all the way. They won the 2018 World Cup in impressive fashion and now Mbappe will hope to lead Les Bleus to victory once again in Qatar.
Brazil led by superstar Neymar are also among the favourites to win the World Cup. They have quietly built a balanced squad capable of taking down anyone, a far cry from the superstar laden teams of yore but still an effective and dangerous team that is capable of beating anybody on their day.