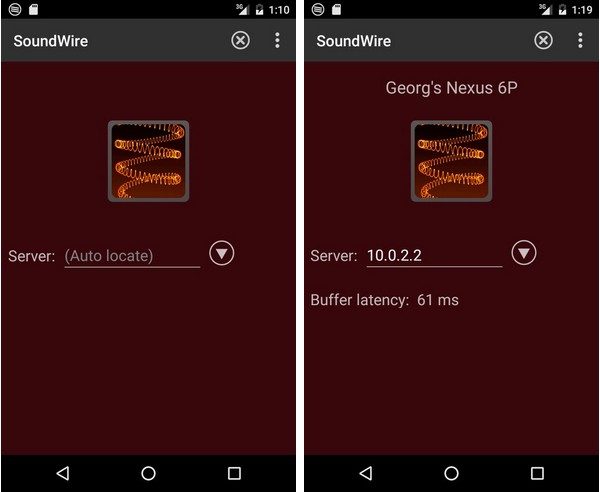 SoundWire lets you stream any music or audio ("what you hear now") from your Windows or Linux PC to your Android mobile devices. Use it as:
– A remote speaker or wireless headphones
– A way to listen to music and movies from your computer anywhere around your house, or further over cell networks
– A wireless extension of live audio from your PC-based music system
SoundWire does audio mirroring (audio cast). You can use any music player on your PC or laptop like Spotify, YouTube, or iTunes and stream the live sound over WiFi directly to your Android device.
SoundWire has low latency (audio delay), which means it can even be used to listen to the soundtrack of a movie or YouTube video while you watch (**Note you must adjust the buffer size in app settings for low latency). There are other uses too… SoundWire can work as a baby monitor or listening device with a computer such as a netbook that has a built-in microphone. Hook up turntables to your computer's line input and stream a live DJ set to another part of the house over WiFi, or anywhere else over 3G/4G (additional network setup may be needed for 3G/4G).
Before using SoundWire on your Android device you must install and run the SoundWire Server application on the Windows/Linux PC or laptop which is your source of music, web audio streaming, or other sounds. Raspberry Pi is also supported. Download the server at http://georgielabs.net (do NOT obtain the server from any other web site).
Features
– Live audio capture and streaming
– Excellent sound quality (44.1 / 48 kHz stereo 16-bit, PCM or Opus compression)
– True low latency (unlike AirPlay, Airfoil)
– Easy to use
– Compression option greatly reduces network usage
– Stream audio from PC to PC running x86 virtualized app (Linux/Windows)
– Runs on all Android versions back to 1.5, put your old phone to good use
For more information see the user's guide at http://georgielabs.net/SoundWireHelp.html
Requirements: Android 4.0
Developer: GeorgieLabs
Get it on Google Play